Jewelry Photo Editing Service
How Jewelry Editing Service work?
Great looking photo displaying a jewelry item in it's best way is the main goal of jewelry retouching. Professional editor moves step by step to this point dealing with a lot of challenges, applying photo editing techniques. What Jewelry Editing consists of? Here are major areas where a large amount of professionalism should be applied.
Jewelry Photo Editing in depth
Jewelry Editing is not the beginning. Good lighting conditions, professional photo gear, studio setup, careful photographer and of course quality jewelry can lead you to a good looking jewelry photo or maybe almost perfect. But who wants ALMOST? Here Jewelry Photo Editing Services take place. Professional editor looking at a photo of a jewelry item decides what should be eliminated and what is worth emphasizing. It depends on the jewelry type. Rings, earrings, pendants, bracelets require different accents which at the end will attract the customer to make a purchase. This is where our Jewelry Editing Service can help a lot.
Main Gemstone retouching
Gemstone in most cases is the most expensive part of jewelry such as rings, earrings, pendants. Is it big or small, is it diamond or less precious gemstone, they all require careful and delicate editing to not lose their individuality and to gain lustre and life. Most of the time stone editing consists of removing dust, unnecessary scratches, unwanted shadows and highlights, dealing with blown out facets. Usually cameras shift or distort real colors of precious stones such as emerald. Restoring its original color is one of the Jewelry Retouching tasks during stone editing.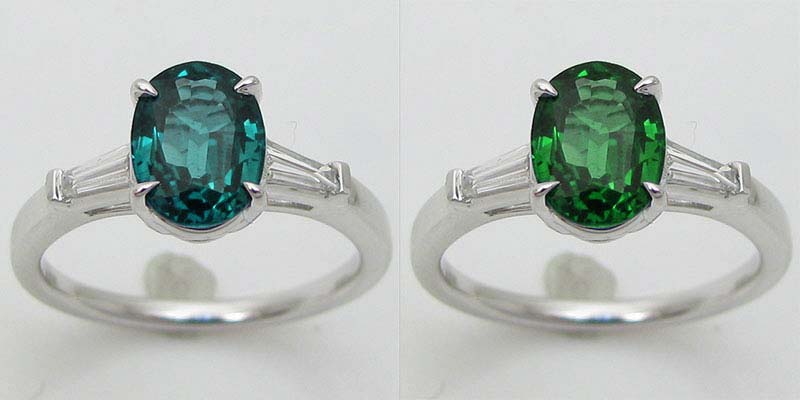 Emerald stone color distortion to the left and fixed color during photo editing process.
In the case of diamonds, a big deal is how the stone is photographed, how much light is fed in to the diamond and how lucky the photographer was during capturing magical lustre of diamond. Sometimes our jewelry editors face the problems of pure photo setup and lack of lighting. In most cases high professionalism of our retouchers help save the image by applying their expertise. However there are cases where nothing can be done with the original diamond to somehow bring it out. In such cases there is a procedure of replacing original stone with a good one and integrating it seamlessly. This complex procedure is provided by our Stone Replacement Service.
Side stones retouching
Side stones in most cases on rings are much smaller than the main gemstone, however they require careful attention during Jewelry Photo Retouching. The main problem with side stones is that their setting most of the time are closed from the bottom. Those small stones are set in small drilled holes in metal, so the light can't go from the bottom and as a result side stones come out dark on the photo, sometimes even black. This is a problem which can be perfectly fixed by our professional editors during the Jewelry Editing process. Adding light to those small diamonds can make the item look more sparkling and as a result increase the attractiveness of a jewelry item itself.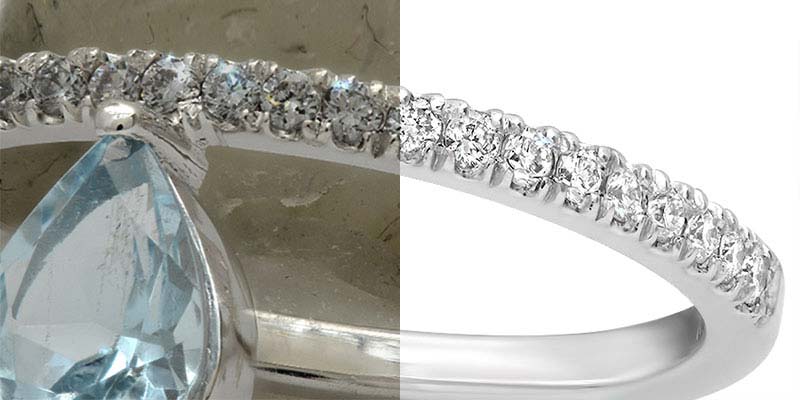 Enhancement of small side diamonds on white gold ring.
Stone settings retouching
Stone is important of course, but not less important is what holds it. Main stone in most cases is held by metal prongs which are bent to hug a stone and hold it secure in place. Manufacturers cut them to size and polish as much they can but sometimes there is some additional work to do. Jewelry retoucher's task is to even out the surface of prongs, shape reflections, maybe remove hair, dust, dirt from underneath the prong, make all the prongs look the same.
In case of small diamonds settings there is a space for additional Jewelry Retouching work too. Lighting up areas around the stones, removing unnecessary black reflections from camera, adding shine to the metal.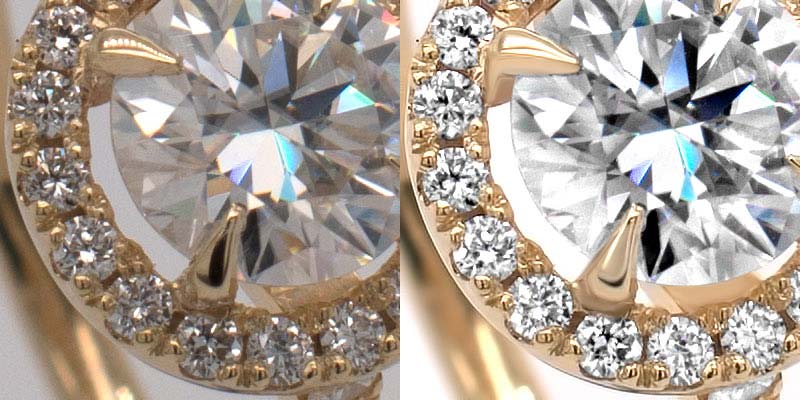 Metal settings photo editing for small diamonds and main stone holding prongs.
Metal texture and reflections retouching
Here we approached the most complex and hard to process part of the Jewelry Retouching process. Try to make a shot of a mirror, what do you see in the picture? Yourself? Camera? All around you? Why is that? You just wanted to take a photo of a mirror but got everything you do not need except the mirror itself.
The problem with polished jewelry is the same. Most of the time is it yellow gold or white gold or even silver, metal is polished to perfection, reflecting light which makes it shiny, but reflecting all around you too. You don't want your jewelry to display a photographer with it's photo gear and whole studio. You don't want large black blobs to cover all your jewelry items. You may think that eliminating unwanted objects to reflect in the metal will help you take a perfect image? Not so fast. Here comes another problem.
How would you consider an object as shiny and reflective if it doesn't reflect anything? What you consider an object is if you theoretically could take a picture without any single reflection?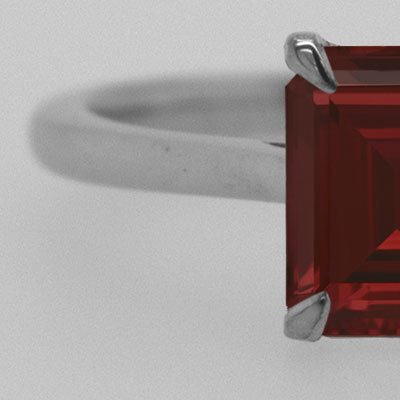 White gold metal without reflections looks like lead.
Here is the answer - lead. Yes, expensive white gold items look like they are made from cheap lead or concrete but yellow gold looks like donut. What can a photographer do with this? Professional jewelry oriented photographers can place reflections on metal exactly where they are necessary. Well, honestly we must say almost exactly. But once again who wants ALMOST? This is where Jewelry Photo Editing Service steps in. During jewelry editing it is possible to shape original reflections so they appear in a most advantageous manner. Remove reflections which the photographer was not able to eliminate, such as the camera itself. In case of poor jewelry photography setup we can even add reflections to metal so it appears shiny and reflective.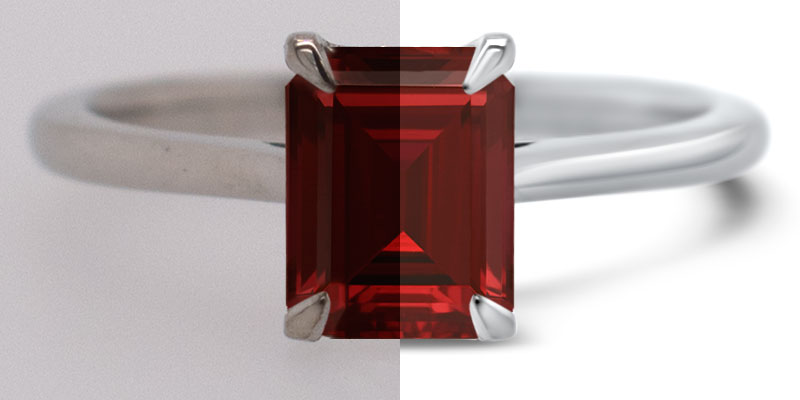 Adding reflections to make metal look shiny
Of course not all jewelry is polished, it can be even textured, plated, filled with enamel, grinded, engraved. All these cases require knowledge and expertise which our Jewelry Photo Editing Service can provide.
Another side of metal retouching process is metal's color. 14k gold is different from 24k even by color. Metal color captured by the camera isn't always accurate. This is the point where we can apply jewelry retouching technique called color correction. We can even change metal colors and make a variety of colors from one single item being shot.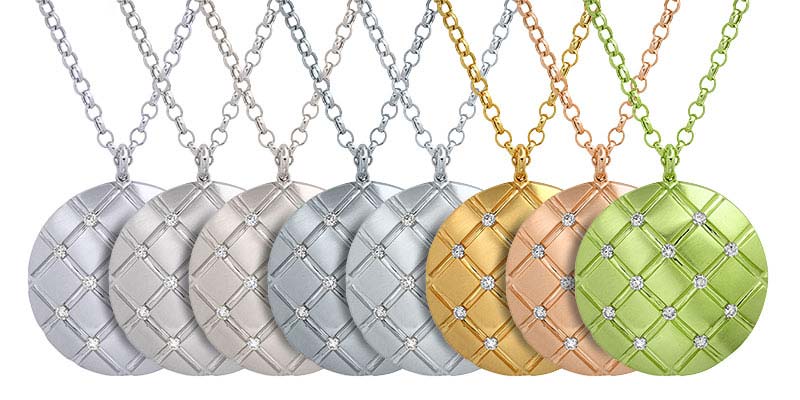 Platinum, Sterling Silver, Stainless Steel, Titanium, White Gold, Yellow Gold, Rose Gold, Green Gold
Shadow retouching
Okay, we did all the best to make our jewelry item look great by itself. Now what? Now we have to present it, to put it in a clean environment, to apply depth to the image, make the item look like a real physical object, like you can almost touch it. This effect is achieved by jewelry editing technique to add grounding shadow.
First we should remove everything that we do not want to be there, like supporting material, holding the item in place during photoshoot. It may be pins holding pendant, or stand for a bracelet. Then we clean up and define the item's edges so it pops out. And finally we can add a real looking item's shadow as if it touched the surface. It mostly depends on item configuration and position. Standing ring is casting thin and narrow shadow, but laying down is casting a round shape almost following the shape of the jewelry. Any type of shadow can be recreated by our professional jewelry photo retouchers.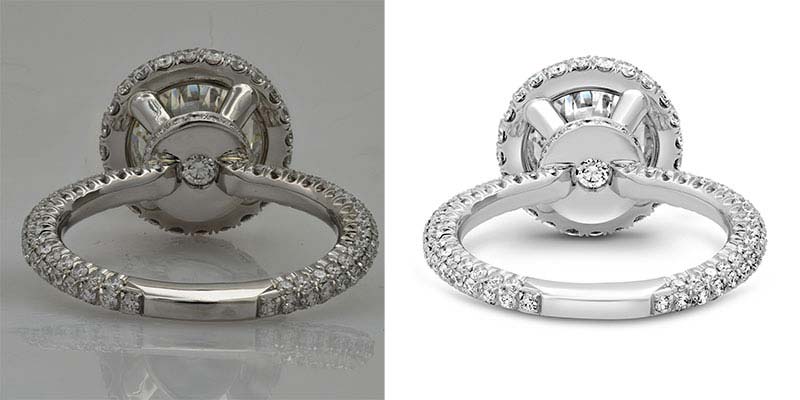 Recreated real looking shadow effect
Reflection retouching
In cases where item's reflection is present on the image, the jewelry editing process aims in cleaning it up, defining where necessary. However in cases where reflection is missing, jewelry editing technique allows to recreate real looking reflection.
Not all types of jewelry can benefit from reflection. Hanging pendants, necklaces, earrings are the best candidates to adopt this type of jewelry retouching effect.
Reflection is usually combined with grounding shadow effect we talked about earlier.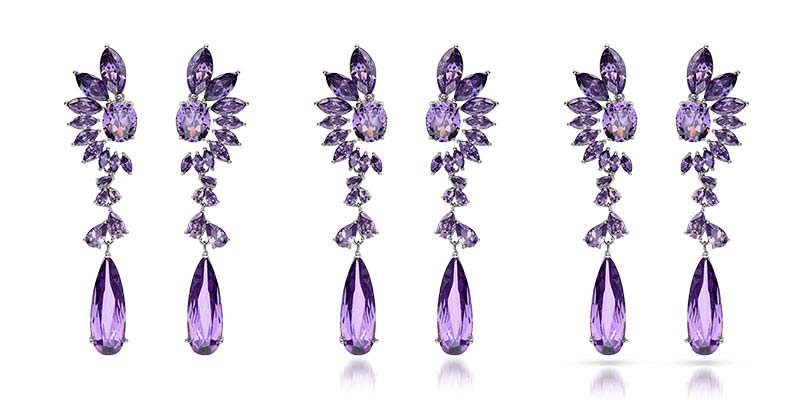 Recreated reflection effect
Background
And last but not least - the background. In most cases comercial jewelry retouching requires a pure white background. However there are not only online stores selling jewelry. There are printed magazines, jewelry advertising banners, creative jewelry photography, which requires professional jewelry retouching even more. Such types of photography often have complex backgrounds or even studio setups, where a lot of other objects can exist. Such as jewelry boxes, clothes, backdrops, even rocks, flowers, wood and other things. Creativity is endless. Our jewelry retouching service can handle all types of backgrounds and backdrops.
Delivery
After passing such a long way to a perfect image now we need to show it to the world. Is that important how we are going to save our image as? Yes of course it is. In reality, wrong decisions can even ruin all the hard work done so far. It all depends on the purpose of the image.
One thing is an online jewelry store - here we come to JPEG format with size from 500px up to 2000px. Some stores prefer PNG images with transparent background.
Another thing is image prepared for print - here our jewelry editing service goes to PSD or TIFF format which use a more clever way of compression, preserving layers, color space, meta data and other technically important things.